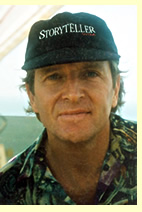 What happens when you decide you want to expand your horizons from the
art of screenwriting to producing a full-length feature yourself? If
you're as talented and determined as Glenn Benest, you end up in the
enviable position of picking and choosing what film festivals you'd like to participate in, both domestically and overseas.
Glenn's latest film, Hungry Hearts, screened in October of 2002 at the
Arclight Cinema on Sunset Blvd. Since then it has been in 8 other film
festivals, winning awards in four of them. Recently it won the Special
Jury Award at the Houston International Film Festival, Worldfest. It has also been accepted at the Cairo International Film festival. It stars Susan Blakely, S. Greg Gardner, Pauley Perrette, and Kristen Shaw. I sat with Glenn and discussed his journey from page to premiere.
Elizabeth Hayes: Tell us about Hungry Hearts.
Glenn Benest: The film is about four women who are best friends and involved with Hollywood in various ways. They're all beautiful and have money, and even though their ages range from mid-20's to mid-40's, they're each experiencing a downward spiral in their lives. They have bought into how society portrays women as valuable to the extent that they still have their youth and beauty. It's about how these women perceive themselves and what they ultimately decide to do about that. It's a theme
that will reverberate especially in the film community but it's an issue for all women. Greg Gardner plays the protagonist, a chef who has been hired to cater a party for these four friends. When he finds out what the party is really about, he just wants to leave. But they know something about his past, a situation where he didn't take responsibility for his actions. So he can't leave, he's caught. He has to make the journey from not understanding their choice to bringing his own sense of humanity to the situation. And that's the best he can really do.
EH: By not leaving.
GB: Yes. In the end he finds compassion for them and tries to make it as good as he can and take responsibility for what's going on.
EH: You have a great cast.
GB: Yes. I didn't realize Susan Blakely had this comic flair but that's what we wanted for her character. She really had that and she looks fabulous. And then Greg Gardner – we had someone else cast in that role and at the last minute fired him. Greg came on in the last 24 hours. It was amazing good luck. Also, speaking about good luck, two of our actresses, Pauley Perrette and Kristen Shaw have both shot pilots which have been picked up for the fall TV season, so that's more great exposure.
EH: What is your background?
GB: I'm a screenwriter. I have my MFA in Playwrighting from UCLA and my Bachelor's in English from Harvard. For years I was writing screenplays and I realized I wanted more control of what I'm doing.
EH: Creative control?
GB: Responsibility for the end product. I've written studio films and a
lot of TV movies. I co-wrote an indepenndent film that got produced
couple of years ago and as I got more into the independent world, I knew
I'd like to do my own. I realized I'd have to raise the money myself
and, basically, do it all. That's what got me started down this road,
feeling that at the end, if anybody made mistakes they were going to be my
mistakes and I can't blame it on anybody else and this is the film I
wanted to make.
EH: So Hungry Hearts was the first film you created from the ground up.
GB: Yes. I co-wrote it, and produced it along with three other people:
Timothy Wurtz, Hagai Shaham and Gaynelle Sloman. Gaynelle is the
Executive Producer. She was my most important partner, there from the
beginning, raising the bulk of the money. Now she's doing the poster and all the marketing. She's been my most important partner in terms of making
this happen.
EH: Are you in any other film festivals?
GB: Yes, I mentioned Houston but we also won awards at the New York Independent Film Festival, the Fort Myers Beach Film Festival, and the California Independent Film Festival held in Napa Valley.
EH: Congratulations. And what have been the highlights of the journey?
GB: I think the best part for me as a producer was the three weeks before we started shooting. You're locking in the location, all these people start jumping on board and you get a momentum going. It's very intense. It's amazing when you have a script that everybody likes and a good
cast and you go, my god, this is really happening. You've pulled the
trigger and there's no going back. One of the advantages of doing this
kind of film as opposed to a studio film is that from everyone's point of
view – the cinematographer, the director, the designer, etc. – there's
no one telling you what to do. On a studio movie, people are going to
give you notes, they're trying to justify their job. And since nobody's
trying to justify their job here, there's a great deal of trust. So
there's tremendous freedom in that.
EH: Has this experience changed the way you write?
GB: This is something I would tell people because I'm a teacher, also – I would tell writers this and it became so much more evident to me going through this process. And that is that after everything is said and done, all you've got is that script. You can have great direction and this and that, but you're left with the story – the story and the structure. And if there are problems in the script you will not fix them in the filming. So many people think, Oh I'll fix it later, and it never gets fixed. You really need to spend the time to get it rock solid so that you don't have any problems and the story holds together.
EH: What has been most difficult about the journey?
GB: I learned not to try to do everything myself. And I'm dealing with a lot of technical things in post-production. You learn as you go. And it was really great having a very experienced director, who's also produced, in Rolf Schrader. He did a great job and really gave me good
advice the whole way.
EH: It's a huge learning curve.
GB: Definitely.
EH: What do you have planned for the future?
GB: I'm writing a bigger budget independent feature about the last four days in the life of Edgar Allan Poe. And I'm also writing a studio film about an ordinary man – who just happens to be immortal. I like doing both large and small budget projects, whatever suits the idea. At least now I know how to do a smaller budget feature such as Hungry Hearts.
EH: Inside and out.
GB: Yes! Glenn Benest is an award-winning writer/producer with
numerous credits in film and television. He also teaches private screenwriting workshops and can be reached through his website at:https://www.glennbenest.com